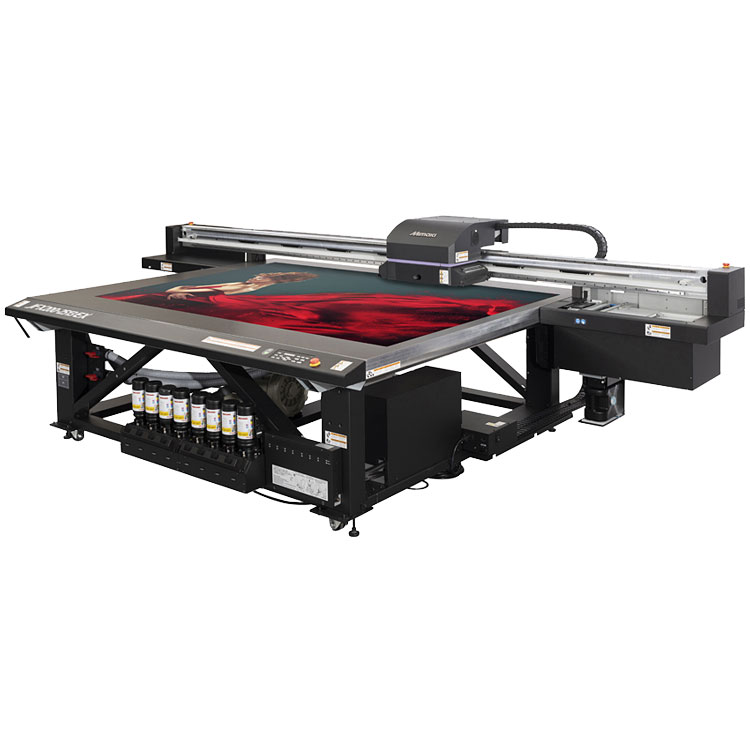 MIMAKI-JFX200-2513EX Inkjet Printer
เครื่องพิมพ์ยูวี ระบบโต๊ะขนาดใหญ่ (Flatbed) สามารถพิมพ์ตรงลงวัสดุที่เป็นผิวเรียบ เช่น โหละ ไม้ อคิลิค เคสมือถือ กระดาษแข็ง เป็นต้น ตัวเครื่องรองรับความหนาของวัสดุได้สูงสุด 5 ซม. พร้อมพื้นที่ในการพิมพ์ขนาด 2.5 เมตร x 1.3 เมตร
Product Detail
The "JFX200-2513 EX" is a successor to the "JFX200-2513" and is a large format flatbed UV inkjet printer that combines high-value-added printing and high productivity while being an entry model.
Other improvements include stability and usability.
Features
The "Surface Imaging (*1)" that we have been proposing includes "Emboss Print", which makes the surface look bumpy with many layers of UV ink. Although thicker layers can increase the bumpiness, smoother expression is only achieved by stacking stepped layers, so there was a need to manually prepare the data for each layer.
*1 Mimaki's value-added print technology using UV inkjet printer
The "JFX200-2513 EX" allows you to create semi-stereoscopic 2.5D print data for stepped layers that are sized differently, simply by common Illustrator/Photoshop operations and RasterLink6Plus (standard accessory).
Using the "2.5D Texture Maker (*2)" enables simple, smooth, semi-stereoscopic 2.5D print such as interior materials with printed bricks and woodgrain texture, an elevation of thick ink of an oil painting and embossed letters of signage, of which texture entices you to touch.
*2 "2.5D Texture Maker" is available to JFX200-2513 EX only. (Status as of April, 2019)
The newly developed head unit is adopted to enable production without reducing speed even in white & color simultaneous printing. This has increased the productivity 200%(*1) compared to the "JFX200-2513" by resolution.
*1 Comparison made between JFX200-2513 at Hi-Speed mode (12.5m2/h :134.5 sq. ft/h) and JFX200-2513 EX at Hi-Speed mode (25m2/h :269.0 sq. ft/h) / (4C + Spot Color, 300x450dpi, 12P, Bi, Nor) vs (4C/4C + Spot Color, 300x450dpi, 6P, Bi, Nor)
"JFX200-2513 EX" adopts the new "Draft mode" to provide a higher-grade productivity, realizing a maximum print speed of 35m2/h (376.7 sq. ft/h)(*2). It can realize production 140% faster than the conventional model "JFX200-2513" with a maximum speed of 25m2/h (269.0 sq. ft/h).
*2 In the case of 4C/4C + Spot Color 300x300dpi, 4P, Bi, Nor
NCU (Nozzle Check Unit) detects the status of nozzles automatically. When the NCU detects a missing nozzle, it automatically performs cleaning. If cleaning does not solve the problem, NRS (Nozzle Recovery System) automatically replaces the defective nozzles with other nozzles, which enables users to continue their operation without waiting for service representative.
Other than the standard emergency stop switch, customers can also have the printer work with safety measures that suit their environment.
The product can support various safety standards depending on the customer, including safety light curtain and safety mat.
With the JFX200-2513 EX, you can use not only the ON/OFF switch on the operation panel, but also a foot pedal to operate the vacuum switch that ensures stable print by adsorbing media to the bed surface.
The foot pedal improves work efficiency when the user has no hands free such as for printing on large-size boards.
In addition to the conventional USB connection, connection via Ethernet is now available.
It is a convenient connection method when connecting a single PC to multiple printers.
Setup is easy; just add cables to the existing office network environment.
Specification
JFX200-2513 EX
Head
On-demand Piezo head (Array of 3 heads stagger)
Print resolution
300, 450, 600, 900, 1,200dpi
Ink
Type
UV curable ink : LUS-120 (C, M, Y, K, W, Cl)
UV curable ink : LUS-150 (C, M, Y, K, Lc, Lm, W)
UV curable ink : LUS-350 (C, M, Y, K, W, Cl) *1
UV curable ink : LH-100 (C, M, Y, K, Lc, Lm, W, Cl)
Primer: PR-200 *2
Ink Supply system
1liter bottle, 250ml bottle (LH-100, LUS-120, PR-200 only) *3
Ink circulation system *4
White ink circulation using Mimaki Circulation Technology (MCT)
Maximum diagram dimensions (W×D)
2,500×1,300 mm (98.4×51.2")
Media
Dimensions (W×D)
2,500×1,300 mm (98.4×51.2")
Height
Max. 50 mm (2.0")
Weight
Less than 50 kg/m

2

 (110.2 lb./ft2), non concentrated load
Media absorption
 
Blower adsorption type + foot switch
 
Number of absorption
area partitions
2 partitions (X-axis direction)
Curing device
LED-UV system
Interface
USB2.0, Ethernet
Safety standard
VCCI class A, CE mark, CB report, U.S. safety standard UL (UL62368-1), RoHS Directive, FCC Class A, Machinery directive, EAC, RCM
Input power supply
Single phase, 200 V AC-240 V AC, 50 Hz/60 Hz, less than 12 A
Power consumption
Less than 2.88 kVA
Installation environment
Temperature
15 – 30 °C (59 – 86 °F)
Relative humidity
35 – 65 %Rh
Accuracy maintained temperature
20 – 25 °C (68 – 77 °F)
Temperature gradient
Less than ± 10 °C/h (± 18 °F/h)
Dust
Similar to standard office environments
Assembled Dimensions (W×D×H)
4,400×2,450×1,250 mm (173.2×96.4×49.2")
Weight
650 kg (1,433 lbs.)
*1 LUS-350 is scheduled to apply later.
*2 PR-200 is not compatible to use with LUS-350.
*3 Only 1 liter bottle is available when the initial ink filling.
*4 MCT works only with white ink.
・Inks would not be cured when printing speed is faster than that of draft mode.
Some of the screens and printing samples in this website are artificial renderings.
Specifications are subject to change without notice.
All trademarks or registered trademarks are the property of their respective owners.
Inkjet printers print using extremely fine dots, thus colors may vary slightly following replacement of the printing heads. Also note that if using multiple printer units, colors may vary slightly among the units due to slight individual differences among the units.
 Inks and substrates:
Please note that properties and adhesion, weather resistance etc. of ink and substrates can vary. Therefore please test materials before printing.
Some substrates require primer before printing. Please test materials beforehand or ask your sales representative.
 Safety notice:
You are dealing with UV light sources that may harm your health. Please follow below guidelines strictly:
Do not look directly into the UV light source nor place your hand, or expose your skin directly to the UV light source.
Depending upon print mode, there might occur some VOC emittance from printed parts not yet cured and hardened.
In addition, please read the instructions and guidelines of the manual carefully and follow those.