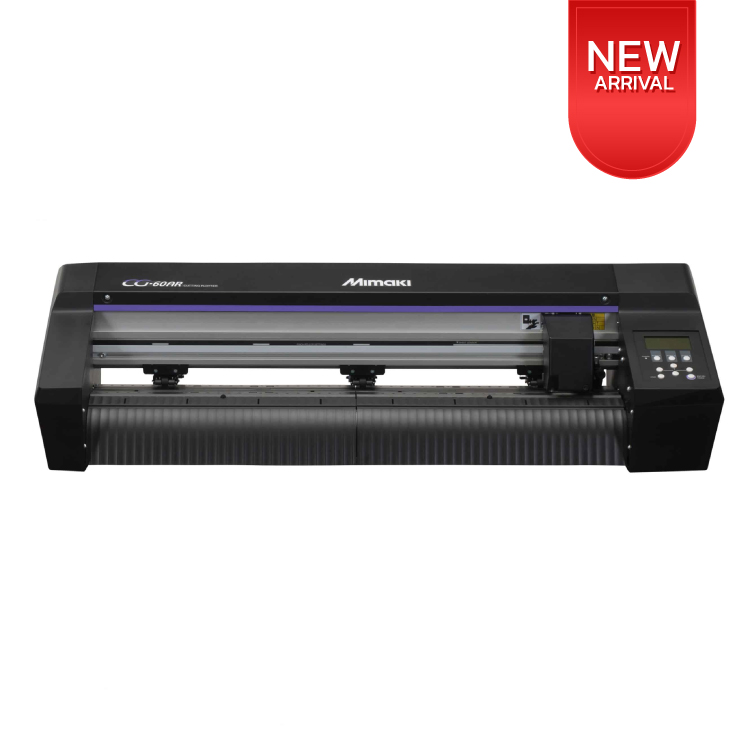 MIMAKI-CG-60/100/130 AR Series Cutting Plotter
เครื่องตัดและไดคัทสติกเกอร์ ตัดได้รวดเร็วและแม่นยำ มาพร้อมหน้ากว้าง 60 เซนติเมตร 100 เซนติเมตร และ 130 เซนติเมตร
Product Detail

"CG-AR Series" are the entry-model of cutting plotter with improved cutting performance, compatibility with a wide range of cutting materials, and enhanced usability, all at an affordable price.

In addition to cutting letters, labels, and stickers, the CG-AR newly supports full cutting and folding lines of cardboads. It can also produce packages up to A3 size by using dedicated options.
Realizing a cut pressure of 550 g, which is the highest in the entry class, expanding the range of cuttable materials
The maximum cutting speed is 105% of the previous model for greater productivity
New lineup options for cardboard full cutting
Easy to cut output from Windows plotter driver
Equipped with an ID cut function, realizing efficient print & cut in seamless coordination with Mimaki's printers
"Mimaki Remote Access (MRA)" enables to check the machine operation status and operate the panel from a distance
Effective cutting area 606mm (23.8")

*Sheet basket and stand are optional.
Effective cutting area 1,070mm (42.1")

*Sheet basket is optional.
Effective cutting area 1,370mm (53.9")

*Sheet basket is optional.
*Click to view larger image.
| | | | | | | |
| --- | --- | --- | --- | --- | --- | --- |
| |   | |   | |   | |
| Label |   | Window display |   | Paper craft |   | Package |
Features
The cutting pressure can be selected from 10 g to 550 g, and three types of cutting are possible: normal cutting, complete cutting, and half cutting. The machine can cut a wide variety of materials, including PVC, fluorescent and reflective sheets, and rubber sheets.
CG-AR Series are now capable of producing high-quality cutouts from plain paper to cardboard with the use of optional products for cardboard cutting, such as a Sheet table, Cutting sheet, Blade for heavy paper and Creasing tool. Using this machine, you can produce paper crafts and packages.
With use of familiar software such as Microsoft Word/Excel/PowerPoint, cutting is now as easy as outputting from a general office printer.
"ID cut" is a function for automatically cutting data included in an ID simply by scanning the ID register marks output by Mimaki's optionally available printer*. Data transmission from the PC is completed with one-time operation, which drastically saves labor for print & cut and enhances work efficiency.
* Compatible with the JV330 Series, JV300Plus Series and the JV/UJV100 Series
It is now possible to check the status of the cutting plotter remotely from your iPhone or PC. This function enables operators to check the operation status of the machine and to operate the panel from a distance, allowing them to work more efficiently.
 Mimaki Remote Access
Over cutting and corner cutting of starting & ending points and other corners are possible, which prevents incomplete cutting.
Crop marks are automatically and continuously detected. Printed graphics are accurately contour cut due to the compensation for image distortion. The detection of a maximum of 4 crop marks provides a precision finish.
Nested data which are continuously arranged in the directions of X-axis and Y-axis are cut by automatically making corrections.

Intermediate crop marks of the feed direction are detected, enabling four-point corrections for each segment. This leads to accurate, long-length cutting, even if the image is distorted.

Picture: Intermediate crop marks can be made by FineCut.
Division Cut Function

: Cut is performed by splitting a space larger than the sheet width or splitting long data in the X-axis (feed) direction and the Y-axis (width) direction to avoid cut position gap.

Ethernet Connection

: Network control via integration into office LAN.

Improved assembly and installation

: Up to 30% weight reduction for simplified assembly. The addition of rubber feet makes it easier to adjust the rattle when installing on a tabletop.

Improved cutter holder

: The cutter blade can be changed with less operation than conventional products. (4.5 turns of the knob -> 2.5 turns)



FineCut/Coat9 is plug-in software for Illustrator and CorelDRAW, which meet all high level cutting needs, such as the creation of contour cut data from images, or division cutting with a tiling function.
 FineCut/Coat9 for Illustrator
 FineCut/Coat9 for CorelDRAW
Specification
 
CG-60AR
CG-100AR
CG-130AR
Acceptable sheet width
90 - 740 mm
(3.5 - 29.1")
90 - 1,250 mm
(3.5 - 49.2")
90 - 1,550 mm
(3.5 - 61.0")
Effective cutting area *1
606 mm × 51 M (23.9" x 167.3')
1,070 mm × 51 M (42.1" x 167.3')
1,370 mm × 51 M (53.9" x 167.3')
Maximum speed
Cutting: 73 cm/s (28.7"/s), Moving at 45° direction: 103 cm/s (40.5"/s)
Adjustable speed range
1 - 10 cm/s (1 cm/s step adjustment): 0.4 - 3.9"/s (0.4"/s step adjustment)
10 - 73 cm/s (5 cm/s step adjustment): 4.0 - 28.7"/s (2.0"/s step adjustment)
Mechanical resolution
X direction: 2.5 μm, Y direction: 5 μm
Command resolution
25 μm, 10μm(MGL-IIc) / 100 μm, 50 μm(MGL-Ic1)
Repeatability *2
± 0.2 mm / 2 M
Effective Repeatability
586 mm × 2 M
1,050 mm × 2 M
1,350 mm × 2 M
Maximum pressure
550g
Range
of down pressure
Cutter
10 - 20 g (2 g step), 20 - 100 g (5 g step), 100 - 550g (10g step)
Pen
10 - 20 g (2 g step), 20 - 100 g (5 g step), 100 - 150g (10 g step)
Creasing tool
10 - 20 g (2 g step), 20 - 100 g (5 g step), 100 - 550g (10g step)
Acceptable sheet *3*4
Vinyl sheet, Fluorescent type vinyl sheet, Reflective sheet, Rubber sheet and Cardboard (used in combination with an optional sheet table)
Acceptable tool *5
Eccentric cutter, Creasing tool, commercially available ball-point pen
Type of command
MGL-IIc / MGL-Ic1
Interface
USB, RS-232C, Ethernet
Receiver buffer size
About 27 MB as standard (17 MB when sorting is effective)
Operational environment
Temperature: 5 - 35 degC (41 - 95 degF),
Humidity: 35 - 75 % Rh (Non-condensing)
Power supply
AC 100 V - 240 V 1A 50/60Hz
Power consumption
168W or less
228W or less
Dimensions(W×D×H)
1,010 × 355 × 355 mm
(39.8 × 14.0 × 14.0")
1,010 × 580 × 1,160 mm *6
(39.8 × 22.8 × 45.7") *6
1,510 × 580 × 1,160 mm
(59.4 × 22.8 × 45.7")
1,810 × 580 × 1,160 mm
(71.3 × 22.8 × 45.7")
Weight
17kg (37.5 lb)
27kg (59.5 lb) *6
35kg (77.2 lb)
43kg (94.8 lb)
Stand
Options
Standard equipment
*1: Maximum sheet feeding length differs depending on the software.
*2: For detailed conditions of repetition accuracy, please refer to the instruction manual.
*3: For fluorescent and reflective sheets, use the blade dedicated to each material.
*4: Thick cardboard may reduce cut quality and precision.
*5: Use a commercially available ball-point pen with dia. 8-9 mm and without protrusion nor taper on the clamp position.
*6: When equipped with the optional stand.
Some of the screens and printing samples in this website are artificial renderings.
Specifications are subject to change without notice (for technical improvements, etc).
All trademarks or registered trademarks are the property of their respective owners.