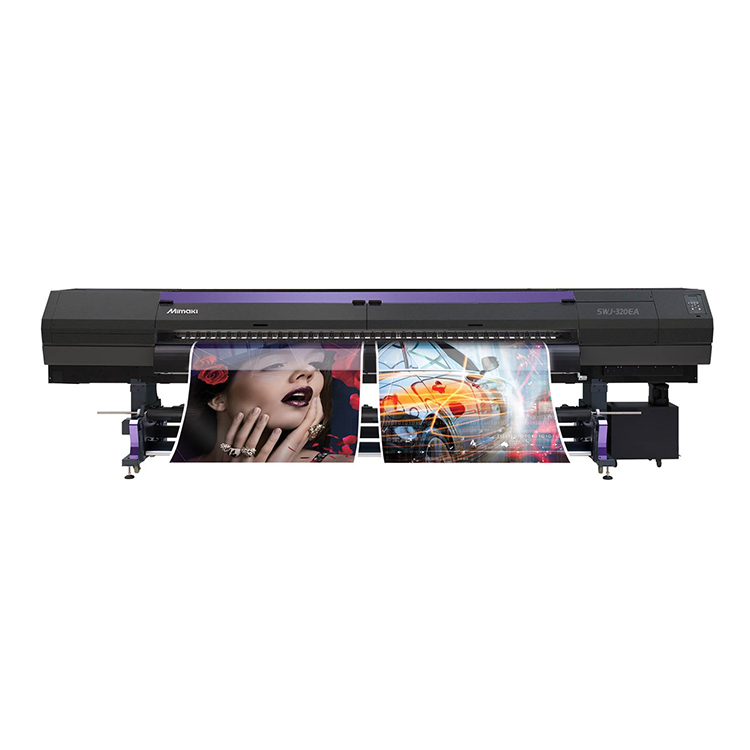 MIMAKI-SWJ-320EA Inkjet Printer
เครื่องพิมพ์อิงค์เจ็ท มาพร้อม 4 หัวพิมพ์ หน้ากว้าง 3.2 เมตร ขึ้นโรลคู่ได้ พิมพ์ 2 ม้วนพร้อมกันได้ เหมาะสำหรับพิมพ์งานขนาดใหญ่ เช่น ป้ายโฆษณาบนตึก ป้ายโฆษณาข้างทางด่วน เป็นต้น
Product Detail
SWJ-320EA is a revolutionary 3.2 meter wide solvent printer. As the successor of the legendary SWJ-320 S4, its functionality is further expanded with Mimaki Core Technologies such as MAPS4, NRS, and offers an unique ratio of affordable price, highest quality, and reliability.
Four advanced printheads with top speeds up to 137sqm/h
Up to 1200dpi image resolution
Competitively priced 3.2m super-wide format with twin-roll option
Combined high level efficiency, productivity and low operational costs
Mimaki Core Technologies including MAPS4 and NRS
Features
Four advanced printheads with top speeds up to 137sqm/h !
New generation of high-speed print heads arranged in stagger mode with a resolution up to 1200 dpi allows the high speed production at the speed of max. 137sqm/h.
4 printheads with 2 staggered configuration
Print speed
Twin-roll printing
Taking advantage of the 3,200 mm printing width, two media rolls can be mounted and can be printed on simultaneously*. This function enables operating different print jobs at once. The user may select the preferable widths separately for each roll within a specified range from 210 to 1,524 mm. Each media width and the distance between the two media rolls are automatically detected.
* The same media type should be used when printing on two media rolls simultaneously.
Proven High Resolution and Print Quality
Variable dot print with a minimum dot size of 7 pl
Mimaki's world proven technology produces unbeatable high definition and resolution prints. With three different dot sizes (7pl minimum) and a maximum resolution of 900 x 1,200dpi, the SWJ-320EA ensures fantastic print results without that grainy appearance.
Eco-solvent ink "CS100" & "CS200"
Affordable yet reliable solvent ink "CS100" & "CS200"
The series of CS ink of 2L bottle type are more affordable than conventional cartridge, which have exceptional stability and low propensity to clog nozzles.

The CS ink also brings the same high Mimaki standards for color accuracy, image durabilty and weatherability found in other conventional Mimaki solvent inks.

* CS200 is available in specific counrties only.
Mimaki's Core Technologies
Mimaki Advanced Pass System (MAPS4)
MAPS is designed to prevent banding. With every pass, it uses a unique algorithm that calculates the most effective way of jetting the ink drops to avoid visible banding. This constantly changes depending on ink color, coverage and printing speed.
Nozzle Recovery System (NRS)
Without the nozzle recovery function, when printing and nozzle clogging or failure occurs that could not be resolved by the nozzle cleaning function, printers have to wait stop until the Mimaki service team arrives. When it comes to this function, even if nozzle washing has no effect on a troubled nozzle, the print image quality can be retained immediately without slowing down the print process.
* The recoverability of this function is limited.
Specification
SWJ-320EA
Head
On-demand piezo head
(4 printheads with 2 staggered configuration)
Print resolution
300 / 600 / 900 / 1,200 dpi
Ink
Type/ Color
CS100 solvent ink (C, M, Y, K)
CS200 solvent ink (C, M, Y, K) *
Packaging
2L bottle / each color
Ink supply system
3L / each color
Maximum print width
3,200 mm (126 in)
Maximum media width
3,250 mm (127.9 in)
(When roll holders are used:1,620mm (63.7 in) × 1)
(Twin-roll printing with roll holders: 1,524 mm (60 in) × 2)
Minimum media width
210 mm (8.2 in)
(Twin-roll printing: 210 mm (8.2 in) × 2)
Media thickness
1.0 mm or less
Media Feeding / Take-up device
Equipped
Roll outer diameter
Large drive shaft: Φ250 mm (9.8 in) or less
Roll holder: Φ180mm (7 in) or less
Roll weight
Large drive shaft:
Feeding: up to 100 kg (220 lb) / Take-up: up to 100 kg (220 lb)
Roll holder:
Feeding: up to 25 kg (55 lb) / Take-up: up to 25 kg (55 lb)
Drying device
3 Way intelligent heater (Pre/Print/After)
Certifications
VCCI class A, FCC class A, ETL IEC 60950-1
CE Marking (EMC, Low voltage, Machinery directive, and RoHS),
CB, REACH, EAC
Interface
Ethernet 1000BASE-T / USB2.0
Power specification
AC 200–240V ± 10% 50/60Hz ±1 Hz, 29 A or less
Power consumption
6.9 kW or less
Operational environment
Temperature: 20–30 °C (68–86 °F)
Humidity: 35–65 %Rh (No condensing)
Dimensions (W×D×H)
5,410 mm × 995 mm × 1,440 mm (213 x 39.2 x 56.7 in)
Weight
850 kg (1873.9 lb)
* CS200 is available in specific counrties only.
CS100
[C,M,Y,K]
C M Y K
CS200
[C,M,Y,K]
C M Y K
Some of the screens and printing samples in this website are artificial renderings.
Specifications are subject to change without notice.
All trademarks or registered trademarks are the property of their respective owners.
Inkjet printers print using extremely fine dots, thus colors may vary slightly following replacement of the printing heads. Also note that if using multiple printer units, colors may vary slightly among the units due to slight individual differences among the units.