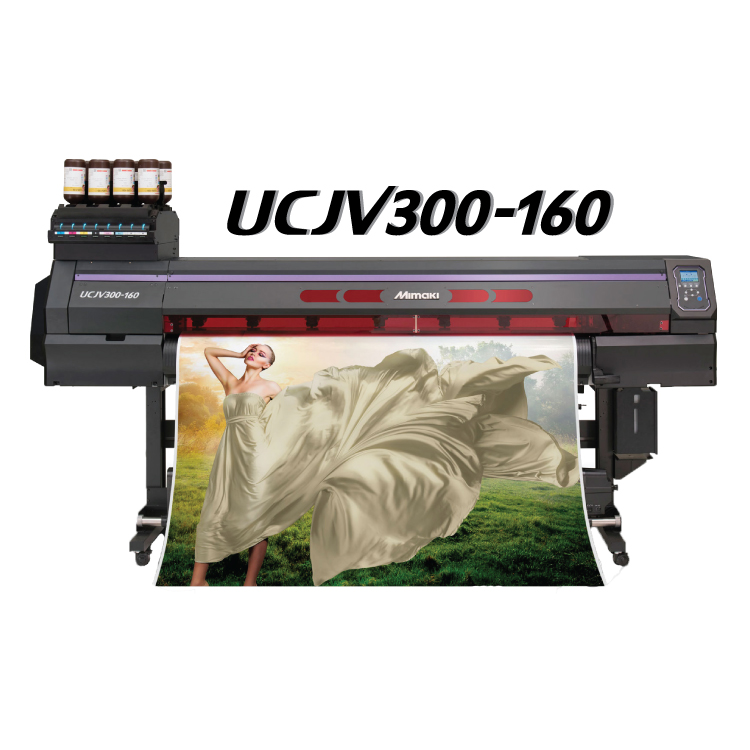 MIMAKI-UCJV300-160 Inkjet Printer
เครื่องพิมพ์ UV LED ระบบ Roll to Roll พร้อมฟั่งชั่นไดคัทในตัว มี 2 หัวพิมพ์ รองรับหมึกสีขาว
Product Detail
[UCJV300-160] is a versatile inkjet printer having a combined function of both printing and cutting mounted with UV-curable ink.

[UCJV300-160] is a high spec model equipped with the 4 layers print function in addition to UV LED print and Print&Cut.
This new model is enough to cover wider ranges from a quick job with short delivery time to an avant-garde signboard.
Features
The combined solutions of the 4 layers print and the inside lighting of graphic will present the amazing image-change named [Day & Night Printing] when the printed media is lighted from the back.
It is a particular sign method with an appeared image switching between daytime and nighttime, double face print of front and reverse image by multi layers print. They will contribute to receive a high value-added job to your business, because such advantageous methods have been difficult.
[Day & Night Printing] : 4 layers print configuration image
[Day & Night Printing] : 4 layers Sign applying image
Utilizing the plug-in tool of Adobe illustrator, [RasterLink Tools] of newly upgraded [RasterLink6Plus] enables to confirm the final image of 4 layers print on the PC monitor of Illustrator operation. As the view while backlight ON & OFF is shown before print at the monitor (*), it saves a retry of print to reduce media losses.
* Preview does not completely show the same with the practical image while backlight ON & OFF.
With the UV ink property of immediate curing upon UV light irradiation, no drying time is required. The post-processing and sign applying are possible instantly, improving the productivity and receiving an order of short delivery time.
According to the higher color density of UV than solvent, UV print can create a more vivid color expression. The color brightness of UV is the key to add value to created signs.
Comparison of UV and solvent printer (image)
UCJV300/150-160 can create more vivid expression with a higher color density. High color density print is not easy by solvent as the property of taking time of drying for ink bleeding.
By applying UV ink, not only PVC and tarpaulin, also, other materials difficult to solvent and latex such as fabric, paper and PET film are printable. UV can provide a diverse printing application.
Newly developed ink, [LUS-170/175] adaptive to environment, generates hardly VOC and can cure without the irradiation of short wavelength UV. [LUS-170/175] yellow ink is eco-friendly and nickel free though general yellow inks are compounding it. [LUS-170/175] gained the [GREENGUARD Gold] certification, which is based on most strict global standard of chemical substance diffusion. 
And its adaption of the criteria is approved by the 3rd party of certification authority. 
[GREENGUARD Gold] certification assures the product property conforms to schools and medical facilities.
* [LUS-175] is only available in specific emerging countries
Having high function and high performance cutting, [UCJV300/150-160] is possible to make labels and stickers by one unit.
Several productive cutting functions are prepared to [UCJV300/150-160], which are selectable to suit your job:
[Continuous registration mark detection] for consecutive cutting,
[Over Cut / Corner Cut] for cutting sharply on preventing an occurrence of uncut,
[Intermediate Cut] for a correct cut of long outline by multiple corrections of position with intermediate registration marks,
[Register mark of Zero margin] for saving media losses to eliminate the margin between register marks.
And more.
[ID Cut] is a function to print together crop mark and ID for recognition of cutting details and media rotation of job and then cut data of every print data is readable to start the cut automatically.
It saves the labor of confirmation of media direction and no need to have every cut order by operator on the RIP, even in a case of multiple types of small lot cut. It reduces media loss by data transmission error.
ID Cut function (image)
Specification
UCJV300-160
Print head
On-demand piezo head
Print resolution
300dpi, 600dpi, 900dpi, 1200dpi
Droplet size
Min. 7pl, Max. 28pl
Head gap
3 degrees adjustment (2.0/2.5/3.0 mm) by manual
Print speed
4C Draft mode: 25.8 sqm/h
4C Standard mode: 15.7 sqm/h
7C Draft mode: 13.4 sqm/h
7C Standard mode: 8.0 sqm/h
Ink
Type
LED-UV ink: LUS-170
LED-UV ink: LUS-175
*Only available in specific emerging countries
Color
4C (C, M, Y, K)
7C (C, M, Y, K, Lc, Lm, W)
Capacity
1L (Bottle supply)
Max. print width
1,610 mm (63.4 in)
Max. media width
1,620 mm (63.8 in)
Media thickness
1.0 mm or less
Media roll outer diameter
φ250 mm or less
Media roll weight
40 kg or less
Cut speed
Max. 300 mm/s (420 mm/s in 45 degrees direction)
Cut pressure
10-450 gf
Cutter
Types
Eccentric cutter, Blade for small character, Blade for reflective sheet, 
Blade for fluorescent sheet, Blade for PVC with low-pressure
Safety standard
VCCI Class A / FCC Class A / Compliant with UL 60950-1, ETL / 
CE Marking (EMC, Low voltage, Machinery directive) / RoHS /
CB Report / REACH, ENERGY STAR® / RCM
Interface
USB2.0 / Ethernet 1000 BASE-T
Power supply
Single phase (AC100-120 / 200-240V±10%, 50/60Hz±1Hz) x2
Power consumption
AC100V: 1.44kW / AC200V: 1.92kW x2 or less
Operational environment
Temperature: 20-30 degrees (68–86 °F) 
Humidity: 35–65% Rh (Non condensing)
Dimensions (W×D×H)
2,900 x 776 x 1,475 mm (114.2 x 30.6 x 58.1 in)
Weight
188 kg (414.5 lb)
LUS-170
[C,M,Y,K,Lc,Lm,W]
C M Y K
C M Y K Lc Lm W
LUS-175
[C,M,Y,K,Lc,Lm,W]
C M Y K
C M Y K Lc Lm W
Some of the screens and printing samples in this website are artificial renderings.
Specifications are subject to change without notice.
All trademarks or registered trademarks are the property of their respective owners.
Inkjet printers print using extremely fine dots, thus colors may vary slightly following replacement of the printing heads. Also note that if using multiple printer units, colors may vary slightly among the units due to slight individual differences among the units.