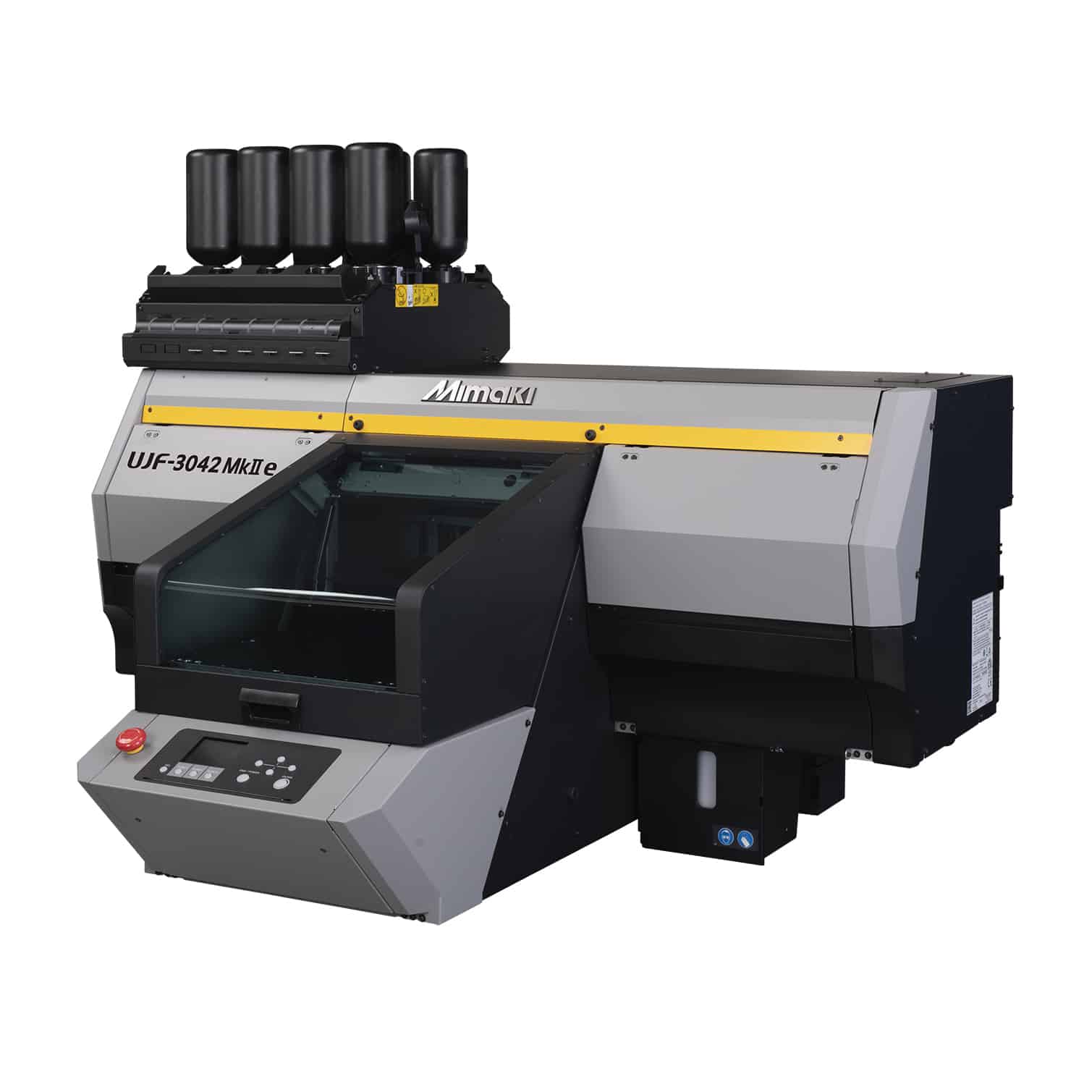 MIMAKI-UJF-3042 MkII Ex e Inkjet Printer
เครื่องพิมพ์ยูวี ระบบFlatbed สามารถพิมพ์ตรงลงวัสดุที่เป็นผิวเรียบ เช่น โหละ ไม้ อคิลิค เคสมือถือ กระดาษแข็ง เป็นต้น ตัวเครื่องรองรับความหนาของวัสดุได้สูงสุด 15 ซม. พร้อมพื้นที่ในการพิมพ์ขนาด A3 และ A2
Product Detail
"UJF-3042MkII EX e" is the EXTRA model of " UJF-3042MkII e", of which high productivity, excellent machine performance and beauty of print are reserved to upgrade the configuration from the 3 print heads to 4.

Supports A3 size & 153 mm height & 8 color.
The 4 print heads configuration enables an additional attachment of white, clear and primer ink with the process color (CMYK) of base as 8 bottles of ink can be mounted.
A current process of manual apply of primer and an extra job of surface treatment will be finished by one print setting of this new printer.

A compact but great UV-LED inkjet printer of A3 size, "UJF-3042MkII EX e" realizes the high value added print.
"MFD2 (half-toning)" support for improved image quality.
Incorporation of the reliable Mimaki technology.
Support for "MDL commands" achieves automation and labor saving of printing process such as workpiece transfer.
"RasterLink7" enables numbering and variable data insertion printing (Variable print function).
The optional deodorizing unit efficiently removes odors.
 
 
 
3D lenticular
 
Nameplate (Full-color)
 
Nameplate (Etching)
 
Card
 
 
 
 
Key chain
 
Novelty
 
Flip wallet smartphone case
 
Paper package
 
 
 
 
Switch
 
Photo album
 
Indoor sign
 
Water bottle
Features
A3 size: 297 mm ✕ 420 mm (11.69 in ✕ 16.54 in)
The staggered printhead arrangement enables simultaneous printing of two layers of color and spot colors, maintaining high productivity.
UJF-6042MkII e and UJF-3042MkII EX e can be equipped with light color inks (Lc / Lm), thus CMYK + LcLm + Spot colors (W+W, W+Cl, W+Pr or Pr+Cl) color set is possible.
By adding light colors, smoother gradation and natural skin tones can be expressed.
*Dependent on the ink-setting; simultaneous printing might not be possible in every case.
To reduce printer unit vibration, the print table moves vertical direction during printing without moving the upper unit of the printer. In addition, to achieve higher positional accuracy, two ball screws are installed on both sides of the table to assist table movement. The precise droplet placement reduces-gloss banding issues and enables creating more valuable print products. In addition, the noise level of this model is remarkably reduced compared to the conventional model; thus, this printer can be installed in an office.
The printable object can be as thick as 153 mm (*1). Moreover, the advanced sensor detects even a transparent object (*2). The new model accepts a range of materials with simple set-up steps.
*1: To utilize this feature, spacers are required depending on the thickness of the object. The spacer is one of accessories.
*2: Depending on object size or form, the sensor may not detect the object properly.
The fully covered print table prevents accidents involving operator contact with the printer carriage. It also maintains print quality by reducing dust adhesion.
The flexible LUS-120 ink stretches up to 170% and delivers beautiful and durable print results on soft materials including leather or polyurethane.
The LUS-150 ink stretches up to 150% and delivers vibrant color representation. In addition to its use on soft materials, this ink adheres very well to rigid materials such as glass or acrylic. Examples of ideal applications are indoor signs or trophies.
The LH-100 ink features high scratch-resistant, is chemically resistant, and has excellent color reproducibility. Ideal applications are smartphone cases, key fobs made of resins or plastics.
The PR-200 primer enhances the ink adhesion. The primer can be applied to the required areas by ink-jetting. This feature retains the texture of the material, which is not possible with manual primer application. The PR-200 can be used on resin, glass and metal materials without affecting their texture.
Patent number / JPN: 5817059 USA: US9,132,685 B2
MCC (Mimaki Clear Control) controls high-quality clear prints. This technique adds a glossy finish on desired areas and a premium appearance to the print. However, clear-ink prints tend to be ruined by dusts adhering to uncured inks. In order to minimize dust adhesion and air bubbles on the print, MCC shortens the ink curing time by processing the clear ink print and UV-light irradiation simultaneously. MCC provides a gorgeous gloss finish and a stylish matte finish. Moreover, an embossed print is available by multiple applications of clear ink on specific areas; it adds a dimensional appearance to the print and enables representing the freshness of food or elaborate designs.
By installation of Mimaki RIP software [ RasterLink ], the [ ARTISTA UV Texture Library ] of the equipment of 129 types of texture pattern will be registered to your PC as the swatch in Adobe Illustrator. Various textures are ready starting the [ BASIC ] pattern for elemental expression and the [ ARTISTIC ] pattern with floral-motif and symbols, the [ MODERN ] with visual effect.
Expression of those textures with the clear ink can realize the print for more elaborated design.
[ARTISTA UV Texture Library] (129types)
* BASIC (44 types) : Basic pattern
* ARTISTIC (45 types) : Patterns give a design effect with floral-motif and symbols
* MODERN (40 types) : Patterns give a visual effect
Supports MFD2 (Mimaki Fine Diffusion 2) for improved image quality. MFD2 controls the position of the dots to reduce graininess, suppress unintended noise and color irregularities, and enable beautiful prints.
Patent number / JPN: 5230816
The input profile "Mimaki Expand Color" included in our genuine RIP software enables representing more vibrant solid colors and brighter skin tones than a conventional input profile and provide more attractive print results with high-contrast color shades; bright parts are brighter and dark parts are darker.
Generally, swath boundaries are straight lines. Therefore, a slight misalignment between boundaries causes banding or uneven color printing. MAPS4 reduces banding and uneven color printing with blurred boundaries similar to gradation printing.
MAPS4 applied
Banding and uneven color printing are reduced by scattering swath boundaries. Beautiful print image is obtained.
No MAPS4
Bandings appear on swath boundaries. Print quality is remarkably degraded because banding is recognizable on each boundary.
Each ink color has its own specific gravity and viscosity. To achieve a precise placement of ink droplets onto the media, Mimaki has designed an optimum waveform control technique that allows the printhead to jet each ink color at an optimum angle, maintaining excellent ink droplet circularity. Thanks to precise ink droplet landing, three different droplet sizes (5 pl to 22 pl *) are properly used for providing optimum print results.
* The maximum droplet size is 27 pl when using white high-dense mode.
Clogged nozzles are detected automatically by monitoring ink droplets with sensors. When clogged nozzles are located, these are automatically cleaned, reducing waste printing. Nozzles are checked per transfer file.
* NCU is a standard feature of UJF-6042MkII e and UJF-3042MkII EX e, and an optional feature of UJF-3042MkII e.
If the clogged nozzles are not recovered after cleaning through the NCU function, the NRS selects substitute nozzles and then restarts printing. This is a significant novelty, since previously, when nozzle cleaning fails, the printhead has to be repaired by a technician, and the printing operation ceases until the printhead is repaired. The NRS* allows the printer to continue printing without interruption by using non-defective nozzles as substitutes for defective nozzles until the technician arrives. (*)
* NRS may not be activated depending on print modes.
MCT is used in the ink tank and channel. The white ink is circulated at regular intervals to prevent pigment sedimentation that leads to malfunctions of the printhead.
Mimaki offers command sets to enable customer production systems and peripheral devices to control our printers. Through applying these commands, the position and height of the media setting table, the start of printing, and other printer operations can be controlled. It also allows for the acquisition of remaining ink level and error information from the printer.

Regarding the MDL command, customers are able to build systems optimized to their individual applications by developing the necessary software using technical information (SDK) provided from Mimaki. The system will contribute to automation and labor saving in customers business.
Specification
UJF-3042MkII EX e
Printhead
On-demand piezo printhead
(4 printheads arranged in a staggered line)
Print resolution
Maximum: 1200 x 1200 dpi
Maximum printable area
Width: 300mm
Length:420mm (A3 size)
Ink
Type/Color
LH-100 (C, M, Y, K, Lc, Lm, W, Cl)
LUS-120 (C, M, Y, K, Lc, Lm, W, Cl)
LUS-150 (C, M, Y, K, W)
PR-200 (Primer)
Packaging
LH-100, LUS-120, PR-200: 250 ml bottle / 1 L bottle
LUS-150: 1 L bottle
Media
Thickness
153 mm (6 in) or less
Weight
5 kg (11 lb) or less
Certifications
VCCI class A / FCC class A / ETL IEC 62368-1 /
CE Marking (EMC, Low voltage, Machinery directive, and RoHS) / CB / REACH / Energy Star / EAC / RCM
Interface
Ethernet / USB2.0
Noise level
Standby mode: 55dB or less (FAST-A, measured1 m away from the source)
Continuous operation: 65 dB or less
Discontinuous operation: 70 dB or less
Power supply
Single-phase AC100-240V, ±10%, 50/60Hz ±1Hz
Power consumption
1,000W or less
Operational environment
Temperature
20 - 30 degC (68 - 86 degF)
Humidity
35 - 65%Rh (Non condensing)
Recomended Temperature
20 - 25 degC (68 - 77 degF)
Temperature change
±10 degC (±50 degF) /h or less
Dust level
Equivalent to a general office floor level
RIP software
RasterLink7 (Bundled)
Dimensions (W × D × H) *1
1,355 mm × 1,290 mm × 856 mm
(53.4 in × 50.8 in × 33.7 in)
Weight
135 kg (297.6 lb)
*1: Heights of ink bottles are not included.
- Inks would not be cured when printing speed is faster than that of draft mode.
Some of the screens and printing samples in this website are artificial renderings.
Specifications are subject to change without notice.
All trademarks or registered trademarks are the property of their respective owners.
Inkjet printers print using extremely fine dots, thus colors may vary slightly following replacement of the printing heads. Also note that if using multiple printer units, colors may vary slightly among the units due to slight individual differences among the units.
 Inks and substrates:
Please note that properties and adhesion, weather resistance etc. of ink and substrates can vary. Therefore please test materials before printing.
Some substrates require primer before printing. Please test materials beforehand or ask your sales representative.
 Safety notice:
You are dealing with UV light sources that may harm your health. Please follow below guidelines strictly:
Do not look directly into the UV light source nor place your hand, or expose your skin directly to the UV light source.
Depending upon print mode, there might occur some VOC emittance from printed parts not yet cured and hardened.
In addition, please read the instructions and guidelines of the manual carefully and follow those.