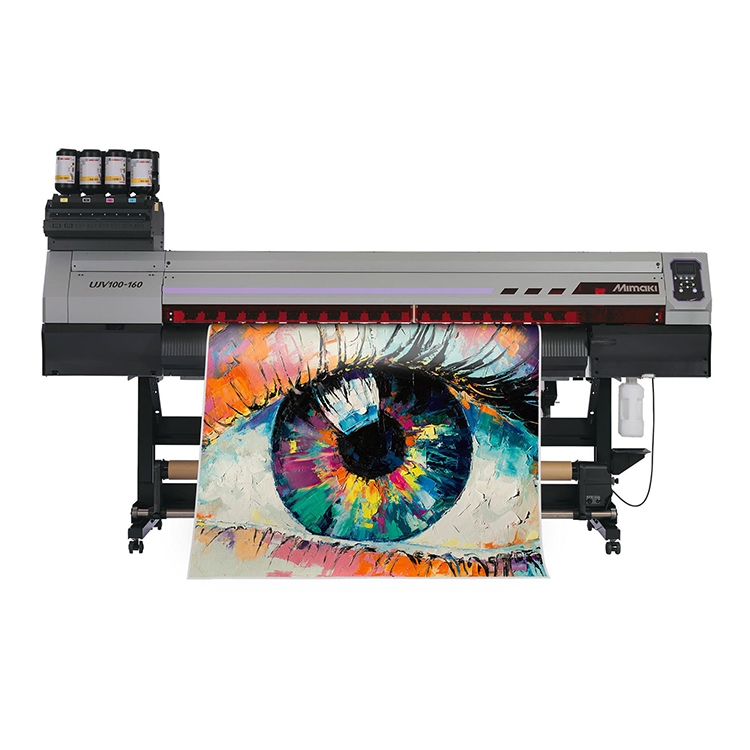 MIMAKI-UJV100-160 Inkjet Printer
เครื่องพิมพ์ UV Roll to Roll รุ่น UJV100-160
Product Detail
  UJV100-160
With two newly developed heads, the UJV100-160 has pursued high quality, high productivity, and stable operation as a UV-curable inkjet printer.

In addition to NCU (Nozzle Check Unit), NRS (Nozzle Recovery System) and MAPS4 (Mimaki Advanced Pass System4), which enable stable high quality printing, the DAS (Dot Adjustment System) was incorporated into the new "100 series" printers. Dot position and feed correction, which used to take a lot of time and effort to do manually, can now be done automatically, reducing the workload on the operator.
*23m²/h: When printed on tarpaulin using the 4C Draft mode
Features
1. Latest features that achieve Mimaki quality
DAS (Dot Adjustment System)
NEW!
The UJV100-160 is equipped with the DAS, a function to automatically adjust the dot position and feeding amount that affect print quality.

When media or printing conditions are changed, an adjustment of ink dot position and media feed amount to suit is necessary.
As the DAS automatically performs these operations, printing can be performed without any labor or variations in adjustments by the operator.
---
---
Mimaki technology that enables stable and high-quality print
---
MAPS4
Generally, swath boundaries are straight lines. Therefore, a slight misalignment between boundaries causes banding or uneven color printing. MAPS4 (Mimaki Advanced Pass System 4) reduces banding and uneven color printing with blurred boundaries similar to gradation printing.
---
---
MAPS ON
Banding and uneven color printing are reduced by scattering swath boundaries. Beautiful print image is obtained.
---
---
---
MAPS OFF
Bandings appear on swath boundaries. Print quality is remarkably degraded because banding is recognizable on each boundary.
---
NCU & NRS automatically detects missing nozzles and performs recovery
---
NCU (Nozzle Check Unit) detects the status of nozzles automatically. When the NCU detects a missing nozzle, it automatically performs cleaning. If cleaning does not solve the problem, NRS (Nozzle Recovery System) automatically replaces the defective nozzles with other nozzles, which enables users to continue the print operations without waiting for a repair by a technician.
---
---
2. High productivity at a competitive price
---
High-speed printing at a maximum of 23m²/h
---
---
---
Because no drying time is required, it is possible to perform installation or lamination immediately after printing.
---
Because UV-curable ink is cured instantly by irradiating UV (ultraviolet) light immediately after printing, a drying process is not needed. Post-processing and sign applying are possible immediately after printing, which shortens production time and improves productivity, allowing you to promptly handle orders of short delivery time.
---
---
3. Capability of supporting various media types and value-added prints, achieved by using UV-curable ink
---
Print on a wide variety of materials, including not only PVC and tarpaulin but also paper with no acceptance layer, PET film, and fabric, is enabled. Value-added print such as two-layer print, in which white ink is used for transparent PET film, and varnish print using clear ink, can also be handled.
---
Specification